Dixieland Express
Dixieland Express is a group of talented musicians from the Black River Area Community Band who love to play Dixieland style music. The group has played in the area the past several years under the leadership of former Black River Falls Middle School band director, Dick Camlek.
The group played for Governor James Doyle when Black River Falls hosted the annual Governor's fishing opener in 2005. Other performance have been at the Bandshell at Lunda Park for the Tuesday summer concert series, wedding receptions, and church celebrations, to name a few.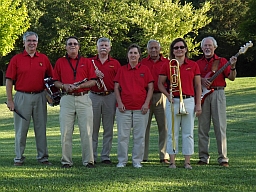 Dixieland Express Members
Dennis Ruda

drums

Dick Camlek

clarinet

Randy Bjerke

trumpet

Carolyn Burge

piano

Dave Mahlum

vocalist

Diane Kujak

trombone

Scott Anderson

bass guitar
Dixieland Express is available to play at your public or private function. Please contact the band to inquire about schedule availability and rates.